POINT COMFORT & NORTHERN RAILWAY COMPANY
Last Update: 8/24/02
Welcome to the "unofficial" homepage (see disclaimer) of the Point Comfort and Northern Railway (PCN)! This page serves to provide the railfan with information about one of my favorite railroads. Being a native of the little town of Point Comfort, Texas, I'm particularly proud of this shortline hauler. If you have any photos and/or other information concerning the PCN, or other comments about this website, please contact me at amc94@yahoo.com or sign my guestbook below.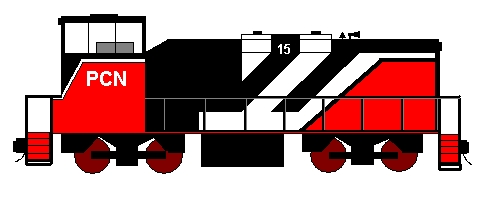 MP15, PCN No. 15 (artist's rendering)
DISCLAIMER: Please note that the information contained on this website does not necessarily represent the views of the Point Comfort & Northern Railway Company, a wholly owned subsidiary of the Aluminum Company of America. Information contained herein is updated by the author who is not affiliated with the PCN in any official capacity; therefore, it does not necessarily reflect day-to-day operations of the PCN, nor is it to be interpreted as an official record of other factual data concerning the railroad.
Sign My Guestbook
View My Guestbook